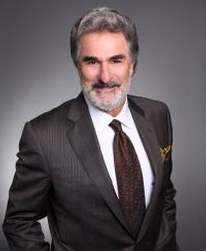 Lawrence M. Adelman
In Memoriam
CONTACT INFORMATION

V-Card
Lawrence "Larry" M. Adelman was a founding partner and principal of AEG Partners. He passed away in May of 2015 after a valiant fight against MDS.
AEG Remembers

Lawrence "Larry" M. Adelman

A great leader and business partner, whose leadership
and legacy will inspire us for years to come
Larry was integral to the growth of AEG Partners, which he co-founded in 2000. He had a gift for seeing opportunities where most others could see only risk. His deep understanding of business, creative mind, and relentless drive were critical to our success and that of each and every one of his clients.
Over the past 15 years, Larry helped expand AEG's business lines from turnaround and restructuring services to a range of business advisory offerings, including the launch of a new capital markets affiliate, AEG Capital, where he served as a board director. He had a long and distinguished career, building multiple businesses and holding numerous CEO and board positions across a range of industries.
Larry mentored numerous people in their careers, and beyond his professional life, he was generous with the community, developed great and deep friendships everywhere he went, and cherished his family above all else.
A champion of many causes, Larry gave his time and leadership to numerous civic and professional organizations. One closest to his heart was the American Jewish Committee (AJC). He served as Regional President of AJC Chicago, was elected to the Board of Governors, and became Vice Chair of the national Regional Offices Committee. He also was a member of the board of AJC's Transatlantic Institute (TAI), where he chaired its 10th Anniversary mission to Brussels, leading a delegation of 50 to help raise the prominence of TAI. Larry served on numerous other local and national committees and participated in several AJC national leadership programs.
Larry was involved in the American Friends of NATAL, the Writers Theatre, and served as a past president of the YMCA in Decatur, Illinois. Professionally, he belonged to the National Association of Corporate Directors, the American Bankruptcy Institute, and the Turnaround Management Association, where he was a long-time member and two-time president of the Chicago/Midwest Chapter.